from: Wikipedia, the free encyclopedia


The Suzuki Cervo is a kei car produced by Suzuki Motor Corporation. Introduced in 1976 as a successor of the Suzuki Fronte Coupé, the name was originally applied to a Cervo kei sport coupé, and then to models that are derived from the Suzuki Alto. The type-name was withdrawn between 1998 and 2006, and again in March 2010 but it can be revived for the Indian market in 2013.

Cervo SS20 (First generation)
---
SS20 Cervo

1979 Cervo CX-G

Overview
Also called
Suzuki SC100
Production
1977.10-1982.06
Assembly
Kosai Assembly Plant,
Hamana-gun,
Shizuoka, Japan
Designer
Giorgetto Giugiaro
Body and chassis
Body style
2+2,
2-doors coupé hatchback
Layout
Rear motored,
Rear wheel drive
Related
Suzuki Fronte 7-S
Powertrain
Engine
539 cc T5A two0stroke I3,
797 cc F8A OHC I4,
970 cc F10A OHC I4
Transmission
four speed,
manual shifting
Dimensions
Length
3,190 mm
Width
1,395 mm
Height
1,210-1,230 mm
Weight
535-625 kg
Chronology
Predecessor
Suzuki Fronte Coupé
Suzuki was the first company to offer a kei car in 1955. One interesting departure from other Kei cars was the Fronte Coupé introduced in September 1971. It was a 2+2 (or a strict 2-seater) Giugiaro-designed mini GT based on the rear-engine Suzuki Fronte, measuring a mere 2,995 mm. It used a 359 cc two-stroke engine developing 31, 34 or 37 hp (35 in later models) depending on equipment level. The Fronte Coupé was discontinued in June, 1976, as it didn't suit the new Kei Jidosha limits, nor the stricter emissions regulations.

After a hiatus of over a year, Suzuki returned to the sports minicar market with the new Cervo in October 1977. The SS20 Cervo was mainly a JDM model (although it was also sold as a LHD in Chile) with a 539 cc three-cylinder, two-stroke engine. The SS20 used the chassis from the 1976 Fronte 7-S, but was equipped with the larger T5A engine (this was the rear-mounted version of the LJ50 used in the Jimny and Fronte Hatch, also known as the T5B in the FF Alto/Fronte). The body was based on the Giugiaro designed Fronte Coupé, but with a bulge in the front and bigger bumpers which led to the loss of some of the original's grace. Instead of square headlights, the Cervo received round items. The new rear glass hatch added convenience.

Worse was that the new 550 cc engine was strangled by emissions requirements. Whereas the most powerful 360 cc version had offered 37 PS (27 kW) at 6,000 rpm, the new T5A only provided 28 PS (21 kW) at 5000 rpm and had an additional 55-80 kg to drag around. To keep acceleration acceptable, gearing was rather low, keeping claimed top speed to 120 km/h (75 mph). This was ten more than the Fronte 7-S sedan version could achieve, thanks to lower wind resistance, but Car Graphic were only able to reach 111.80 km/h (69 mph) when testing the car in 1977, with the 0-400 m sprint taking 23 seconds. The engine ran out of breath past 7000 rpm. Suzuki were aware that the Cervo, unlike its predecessor, was no longer a mini GT car. The advertising also reflected this, generally targeting the female demographic (except for the sporty CX-G version).

Equipment levels ranged from the entry-level CX (¥608,000 in 1977), via the "ladies' version" CX-L to the top-of-the-line CX-G (¥698,000). The lowest priced CX model received microscopic hubcaps, painted black, as were the bumpers (chromed on better equipped versions). The CX-L was added in September 1978 and had brighter trim, to specifically target feminine customers. Only the CX-G had front disc brakes; the others had to make do with drums all around. Handling was as can be expected, the rear-engine leading to a somewhat twitchy front end. In the SC100's, the heavier four-cylinder engine was countered by a balancing weight in the front bumper.

The SS20 Cervo received a very minor facelift in 1978, consisting mainly of interior upgrades. In June 1982, the rear-engined Cervo was discontinued in favor of a more conventionally laid out replacement, the SS40. In Chile the Cervo was originally sold with the 800 cc F8A inline-four; this was later replaced with the 1 litre F10A as used in the SC100.



SC100
---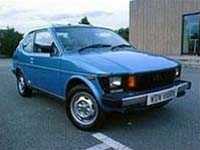 For export, Suzuki transformed the Cervo into the SC100, first introduced in April 1978. The SC100 was known in the UK by the nickname "Whizzkid". The three-cylinder engine was replaced by a rear-mounted 970 cc four-cylinder F10A engine (later used in the SJ410) developing 47 PS (35 kW). Top speed was 142.8 km/h (89 mph) in a contemporary test. The body differed from the Cervo's in that the windshield was not as steeply raked, necessitating a different doorframe and side window as well. Square headlights were used in European markets, with either round or square ones used elsewhere. In European markets the grille incorporated the chunky indicator lenses, which were normally positioned in a space underneath the bumper - these openings were blanked with plastic grilles

In the UK it was only available as the lavishly equipped SC100 GX, while in other countries it was also offered as a CX or the more luxurious CX-G. The GX, with a cigar lighter, reclining front seats, and independent all-round suspension, sold for £2,400 upon introduction (the slightly larger Alto of the same period sold for £3375). The marketing campaign was further helped by an enthusiastic owner, the late LJK Setright, long-time CAR magazine columnist. Other markets included the Netherlands, Hong Kong, South Africa, New Zealand and several Latin American countries.

It was sold in Europe from 1979 to 1982, when production ended. There was only one model change, when dashboard and column switches were modified in January 1980. With demand always outstripping supply, British importer Heron Suzuki sold 4,696 SC100's in Britain, where the car has since then gained minor classic status. Nimag sold around 3,400 SC100's in the Netherlands. As of mid 2014, there were 96 "Whizzkids" registered with the Driver and Vehicle Licencing Agency (DVLA) in the UK.

---
---
from: AUTOVISIE TEST SUZUKI GX COUPÉ - 10 februari 1979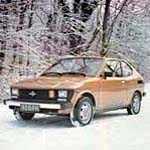 It's hard to believe, but in addition to the seven Japanese brands that are already imported into our country, there still appears to find an eighth. Suzuki, since 1909 an existing industrial establishment that since 1952 further focused on transport and since it's motorcycles occupies a very important place on the world, even appeared to make another couple of cars. Years ago, there were some 0.4 liters minis brought to the Netherlands to scan the market, but these dwarfs with their two-stroke engines were totally not catch on. Now, however, these small Suzuki has grown larger, and with a four cylinder engine of 900 cc in a rather very small coupé bodystyle this small vehicle does indeed something more mature. During the Passenger RAI experienced this thing the Dutch premiere. We are proud of that we have been able to publish a complete test.

Nico de Jong


Motor
---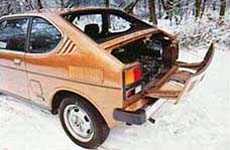 The Suzuki is in a class of cars that actually was just dying out: rear wheel drive with rear-mounted engine. The engine in this case is a transverse four-cylinder, which could be kept by the use of a lot of light, light-alloy, and in that the motor is strongly forward sloping built-in weight balances for the most part in front of the rear axle. At least not too far behind. Four-cylinder engine which has a single overhead camshaft that is driven by a toothed belt. The cubic capacity of 970 cm3, which is obtained from a bore of 65.5 millimeters and a stroke of 70: a long-stroke engine so, albeit only slightly. The factory indicates that at the crankshaft 35.8 kW (49 hp) is produced. Our test on the roller showed the rear wheels up to 23 kW or 31 horsepower at 4500-5000 crankshaft revolutions per minute. That is quite a dramatic difference from the manufacturer! Those 23 kilowatts have to propel a car that weighs only 650 kg empty. Despite this low weight is the acceleration due to the low power still a bit disappointing: from a standstill to 80 kilometers per hour, the Suzuki does 12.5 seconds, up to 100 kilometers per hour 21.1 seconds and up to 120 kilometers per hour 37, 9 seconds. In the lower speed regions the car thus quite well with it, but as it's going slightly faster then the acceleration is a little longer. The "catch-acceleration '(in three) of 80 to 120 is not overly fast: 15.6 seconds. This acceleration potential marks the car actually once more to city transport, most commuters cars than to true grand tourer. Top speed is 132 kilometers per hour, incidentally quite satisfying and actually more than you'd expect. The speedometer is then overstating and assigns a shameless 149 kilometers per hour. The factory announced that the top 140 kilometers per hour must amount to, but even with a tailwind, we can never achieve that value. What is also not at all disappointing for such a small thing with the engine almost in the interior, is the noise. At 80 kilometers per hour, which amounts to a modest 74 decibels, at 100 kilometers per hour, 76 and at 115 kilometers per hour to pass only in the 80 decibel limit. That is frankly better than expected to us. Which was fine, the consumption figures were. At a constant speed of 60 kilometers per hour, the Suzy ran precisely 1 liter to 20 kilometers, at 80 kilometers per hour 1 liter to 18,2 kilometers. At 100 proved risen somewhat, but not more than 1 liter to 13.3 kilometers and at 120 finally ran the car 1 liter to 10.5 kilometers. Again: values stamping vehicle to typical city trolley. The engine however is satisfied with regular gasoline. The engine pulls with ease and pleasure through to 6500 rpm, but that does not make any sense in practice: above 5000 rpm starts to take off the power, at 6500 rpm it is already very strong subsided. It is advisable to switch on at speeds around 5000 rpm. The engine is equipped with a choke and start very easily and smoothly, both in bitter cold and humidity. Very soon after the start, the choke can be largely retracted and after a few minutes the choke can get back in. Especially in this harsh winter, you learn to appreciate extra smooth starters!


Transmission
---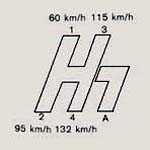 Despite the fact that the transmission between the switching gear stick and the next engine mounted gearbox is fairly long, the Suzuki shifts like the proverbial butter (once switched gears like with butter?). The gearbox itself allows exact control, synchronizations are pretty brutal violence against forearmed. The gearstick is well within reach and the gearshifts are short. The lock for the reverse (press) is not bothersome inoperable and meaningful. The transmission-ratios are nice tuned to one another. Obviously you have with an engine like this pretty much switching to achieve a smooth ride - the gear box does not prevent this in any way. The clutch does its job well, but on the test car was the pedal position while wholly disengaged, very deep. It took a while getting used to. Moreover, the arrangement of the pedals do not admirable: they are very close together and quite far into the footwell.


Brakes
---
The car has front disc and rear drum brakes. Servo unit is not present and is in fact quite superfluous at this weight of the car: we have missed him for a moment. However, the rear circuit is provided with a brake pressure limiter in order to prevent premature blocking of the rear wheels. The car just brakes well, straight. Even with very hard braking, the back side has no tendency for a moment to overtake the front, like you in the past sometimes encountered in cars with rear-mounted engine. Also on wet or partially snow and ice covered road was the Suzuki just very pleasant and predictable. The parking brake operates on the rear wheels and does its job very well.


Roadholding
---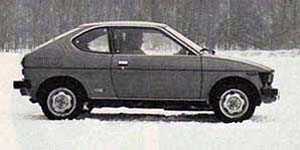 That by our country during the test period sighed under the strict regime of king winter it was not easy to make a considered and mature judgment about the handling. All in all I must say it is better than expected to me. You've got not the idea to have to deal with an outdated conception built car. Both dry and wet (and even snowy) roads the car does well what he is told. To my surprise he appeared initially light understeer. That is undoubtedly due to the fact that the passengers increases the weight on the front wheels somewhat: the car this initial understeer character has therefore significantly stronger with two persons than with one person aboard. When empty rest a 380 kg on the rear wheels and 270 kg on the front wheels. The initial understeer goes with increasing cornering speed or shorter curve radius soon into oversteer. However this upset is friendly and very good at keeping in hand. The car is not violent with the rear end - it happens quietly and predictable. A little heavy-handed, so to speak: it is very easy to correct the car and this correction process is almost automatic. The handling is far better than expected. Hard driving on roads with those beautiful narrow tracks between hard snow crusts could get the case, for example, without problems snow edges up and send off. The Suzuki kept neatly in the imposed rate. Granted - you have to overcome the same thing with such a small thing, but if you are committed to, it appears that you can send the coupe hard to the corner. Plus, you're going to get more and more pleasure in gradually. A nice steering little car, which can actually do to remain a little attentive, and on slippery road surface keep it with a finger under control.


Steering, driving position
---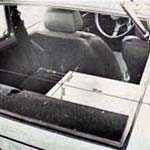 It remains a small car. Strictly speaking for those who are more than 1.75 meters very tight. Sitting with their hair against the headliner, but that is natural in many larger coupé models also the case. The chairs have a bit of a flat back, and that is unfortunate, you might need a bit more lateral grip. The chair in itself goes for tall people not far enough back. The sit behind the wheel is otherwise not bad. Some controls are too far away: you can see that they drive left in Japan. The wiper button, for example, is too far to the right - more convenient would it gradually almost universal stalk behind the steering wheel. The nozzle incidentally has a remarkably powerful electric pump. The view is good - backwards is also is not so bad despite the steeply raked windshield. The windshield is just very high. Pity, the rearview mirror is too deep in the interior, can be badly viewed by no means covers the entire rear window and is not dimmable. (Good) wipers could be five centimeters longer at the top. The steering is well positioned comfortable - also turned out quite nicely. On those few buttons after sitting most buttons good before hand. The left foot is missing a place to be properly put down if he is not in use. The car steers pleasantly light and well immediately. There's a pretty precise rack and pinion in the wheelhouse. It goes without saying of course that you are on the short, steep sloping prow almost watching directly on the road in front of the bumper. At the back you can not see the body, but the whole thing is so short that maneuvering or short turning is never a problem, an ideal city car. Another nice detail: the rear window does not pollute the least inclination itself in wet streets. That's when many contemporary cars a problem where all kinds of expensive washers and wipers are needed.


Driving and seat comfort
---
You should never make the mistake of thinking to suppose that this coupe would be a four-person car. He is not very emphatic. In front can two not to tall adults take place, in the back you may just speak of a emergency seat for all that has outgrown its infancy. The suspension comfort is evident in the image of the short wheelbase. Over sharp bumps, the car has a strong tendency in a seesaw motion. The suspension is incidentally not too stiff. In the test car she seemed a bit too lively, but it was because the dampers were very poor. An unfortunately not unusual image for many Japanese cars.


Interior, exterior
---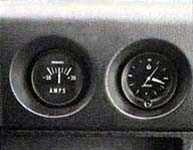 During the time we have driven the Suzuki, our many comments from many bystanders not been spared from the parked car. An overwhelming majority thought it was a wise car, an attractive, lively little thing. A single gruffly spoke condescendingly of an Easter egg. To my taste, it is to its size indeed a nice thing. But tastes are and remain personally. Trunk has the car with rear seats upright actually not at all. Under the bonnet is just place for a jacket or coat mountains and that's it. But who folding the rear seats can lose as much stuff satisfactory and can still easily load via the opening rear window. Around the driver's seat is not enough space for small items. Under the dash is a kind of beam that just as well could have been a mountain board, but unfortunately that is not. The interior is, however, very nicely finished. To reach the spark plug behind the backrest to be folded down, the upholstery are removed and a hatch unscrewed. A gruesome contraption!



Accessoires
---
The Suzuki is fine in the accessories. A tachometer, clock, ammeter, trip meter, electric windscreen washer, rear window defroster, gasoline lock and a reasonable radio are standard equipment. Something you should always include in your considerations when you consider the total price. Especially many European cars seem cheap but are so bare that you if you have them dressed much extra money costs. Just a pity that rotten rearview mirror.


Conclusion
---
It will really be no sensational bestseller, this Suzuki model. This is its scope too small. I see it as an elegant town car with strongly pronounced own identity - especially for not very tall people. Within these constraints must be list of ƒ 11 495,-- will be assessed as reasonable.


---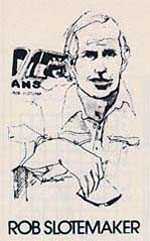 Just to see, I think the Suzuki a beautiful car.

Despite its extremely small size is one there for my taste still successful in creating a harmonious whole of this little model. And the ride quality of the thing are fantastic. When cornering, the Suzuki is basically neutral. However, it makes quite a difference in how the car is occupied. With a own weight of around 650 kilograms it saves something or are one or two persons there on board , with or without luggage. As the load increases, the car gets slightly oversteer. Not much but good and accommodating bar though.

The stability of the Suzuki is excellent, even the steering and brakes. The transmission does a little fragile, but that is probably due to the relatively long transmission. Not only on dry roads, the Suzuki is manageable, even on the skid pan. We measured a safety limit of 530 and that for such a small car is not bad. It takes very little effort to get this little car safe from a slip. He listens very carefully to the wheel and you can really throw it and hurl. For me, this new Japanese money worth every penny. He would only be able to use more power.

ROB SLOTEMAKER (Dutch racing driver)
---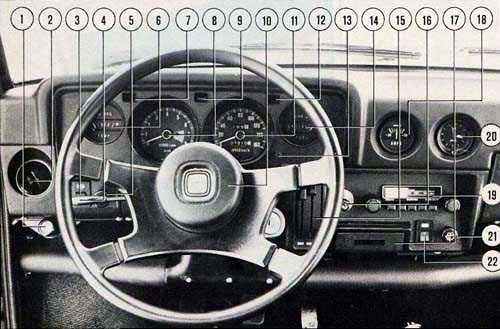 1. Choke; 2. Outlet opening cool / warm air; 3. Switch extra lights (not connected); 4. Turn signal switch; 5. Light switch; 6. Oil temperature gauge; 7. Indicator turn signal light (left); 8. Tachometer; 9. Control light hand brake / braking; 10. Horn; 11. Speedometer with odometer and trip odometer; 12. Indicator turn signal light (right); 13. Adjustment lever trip odometer; 14. Fuel Gauge; 15. Control Sliders heating, ventilation and fan; 16. Lighter; 17. Ashtray; 18. Amperemeter; 19. Radio; 20. Clock; 21. Windscreen wiper / washer switch; 22. Switch rear defroster.